padi 5 star
PHUKET SCUBA DIVING CENTER
Similans Liveaboard The Junk
The Junk Similans liveaboard is the actual boat used in the James Bond movie, The Man With The Golden Gun, which was set in and around Thailand and starred Roger Moore.
Similans, Koh Bon, Tachai, Richelieu Rock
Prices from US$ 1,030  per person
Early booking special offer available!
The Junk Similan Islands Liveaboard
The Junk Similans liveaboard, also known as the MV June Hong Chian Lee, was one of several traditional Chinese Junks built in Penang in Malaysia. Built in 1962, The Junk was originally designed to transport charcoal and she traded up and down the coast from Malaysia to Burma. In 1985 she was restored and redesigned to serve as a classic yacht. Then in 1997 her current owners acquired her and she was once again completely restored and redesigned to operate as a luxury liveaboard dive yacht. She has appeared in many big screen productions in addition to the aforementioned James Bond classic, The Man with the Golden Gun.
Reports from the Junk are constantly good. On their six-night trip, you'll be treated to dive sites throughout the Similan Islands, the Surin Islands, Koh Bon, Koh Tachai, and also Richelieu Rock. Out of all the Similans liveaboards, The Junk, undoubtedly has the most character and old world charm. This is one of the few operators that schedules in an extra days diving in order to take in some of the sites around the Surin Islands. Although rare, small Tiger Sharks have been spotted in this area. There is also a slightly shorter four-night trip which also dives at the best spots in the Similan Islands, as well as Richelieu Rock, Koh Tachai, and Koh Bon.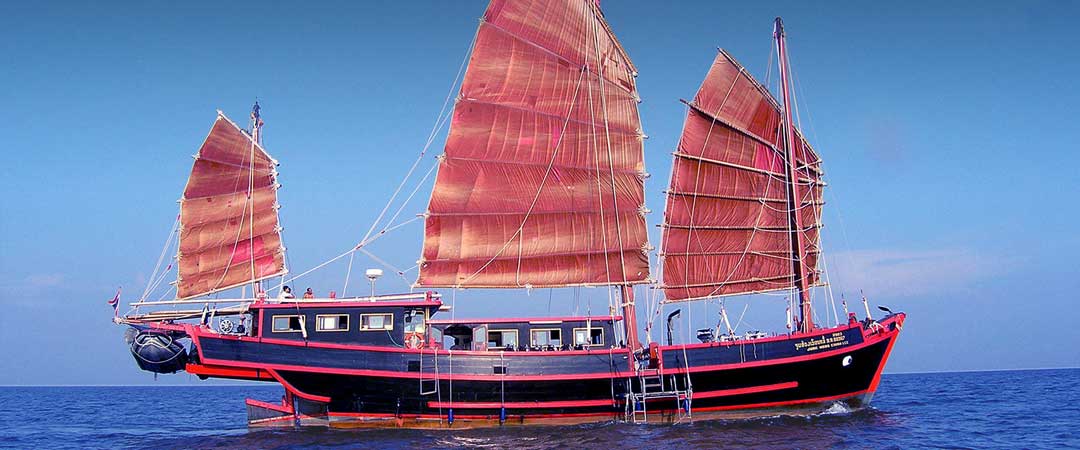 The facilities although not as luxurious as some other yachts, are still excellent and the food and fare is tasty and mouthwatering. The crew are friendly and the dive staff have years of valuable experience working in the Similans so know all the treats and hidden gems to show their lucky guests. If you want to take a Similans Liveaboard which oozes ambiance and atmosphere, then the Junk could be the trip for you.
The Junk Thailand Liveaboard
Complimentary pick-ups from Phuket begin in the afternoons of departure days and take guests to the Junk, which departs from the pier at Tab Lamu. Return transfers to Phuket or Khao Lak are also included if required. Both four and six night itineraries include diving in the Similan Islands as well as Surin dive sites like Koh Bon, Koh Tachai and Richelieu Rock
Scuba Diving Insurance: Guests taking this liveaboard trip must have their own scuba diving insurance. We recommend Divers Alert Network (D.A.N.), a non-profit scuba diving organization which offers various levels of scuba diving insurance for both recreational divers as well as professional divers.
Prices Include: Return transfers from Phuket or Khao Lak to the boat, all meals, snacks, drinking water, dive guides, tanks & weights.
Prices Exclude: Similan National Marine Park fees are currently 1,800 Thai Baht per person for the four-night trip, or 2,200 Thai Baht for the six-night trip. Equipment rental if required is 500 Thai Baht per day for a full set. Guests are required to dive with dive computers and for guests who need one, they are available to rent on the boat for 250 Thai Baht per day. As mentioned above, guests must also have their own scuba diving insurance. Torches for night dives cost 100 Thai baht per day and nitrox tanks cost 300 Thai Baht per tank. Both soft drinks and alcoholic drinks are also an additional cost.
The Junk Similans Liveaboard Prices
Four Days & Four Nights ∗ 14 Dives
Private Double / Twin Cabin – US$1,520 per person
Twin or Triple Share Cabins – US$1,260 per person
Quad Share Cabins – US$1,030 per person
Similan Marine Park fees of 1,800 Thai Baht are payable in cash on the boat
All cabins have private bathrooms
Six Days & Six Nights ∗ 18 Dives
Private Double / Twin Cabin – US$1,9o0 per person
Twin or Triple Share Cabins – US$1,520 per person
Quad Share Cabins – US$1,360 per person
Similan Marine Park fees of 2,200 Thai Baht are payable in cash on the boat
All cabins have private bathrooms
[gdoc key="https://docs.google.com/spreadsheets/d/1oxiKrQqslkiHyhkm2EJhLJ3U1apn8R1Gh0xxBAdn3zs/edit#gid=1390046713″ datatables_searching="false"]
Similan Liveaboard Choices
Ultimately, the scuba diving in the Similan Islands is fantastic regardless of which Similans liveaboard guests dive from. However, the different liveaboard options below cater to different tastes and budgets expected from guests. Please don't hesitate to ask us if you have any questions!

Deep Andaman Queen
Premium Class
Similans, Richelieu, Burma
4 to 7 nights

Hallelujah
Premium Class
Similans, Richelieu
4 nights

Pawara
Premium Class
Similans, Richelieu
4 nights
Sawasdee Fasai
Premium Class
Similans, Richelieu
4 nights

The Junk
Premium Class
Similans, Richelieu
4 to 6 nights

DiveRACE
Premium Class
Similans, Richelieu
4 nights

Manta Queen 1
Budget class
Similans, Richelieu
4 nights
Manta Queen 2
Budget class
Richelieu, Bon, Tachai
3 nights

Manta Queen 3
Budget class +
Similans, Richelieu
4 nights

Manta Queen 5
Budget class
Similans, Richelieu
4 nights

Manta Queen 6
Budget class
Similans, Richelieu
4 nights

Manta Queen 7
Budget class
Similans, Surins, Richelieu
5 nights

Manta Queen 8
Budget class +
Similans, Surins, Richelieu
Five nights

Giamani
Premium class +
Similans, Richelieu, Hin Daeng
2 to 6 nights

Dolphin Queen
Budget class
Similans, Burma
4 to 6 nights
Similan Explorer
Budget class
Similans, Surins, Richelieu
3 to 5 nights

Day Trips
Choice of destinations
Three dives
Small group sizes

Phuket Dive Courses
Learn to dive in Phuket
Friendly & patient staff
Competitive prices

Super Divers Phuket
5/13 Hat Patong Road,
Patong Beach, Kathu,
Phuket,
83150
Thailand
• What'sApp Business: +44 7462-855-750 (General info & bookings)
• Miss Gob: +6680-096-9684 (Transfers & What'sApp in Thai & English)
•
Josh: +6687-624-0674 (

Thai number - info in English)