padi 5 star
PHUKET SCUBA DIVING CENTER
Similans Liveaboard Hallelujah
Similan Islands scuba diving liveaboards don't come much more comfortable than the splendid M.V. Hallelujah liveaboard
Similans, Koh Bon, Tachai, Richelieu Rock
Prices from 36,000 THB per person
Special offers sometimes available!
Hallelujah Similans Liveaboard
Similan Islands dive trips on Hallelujah offer guests high level of comfort and value for money. Hallelujah operates a tried and tested four-night schedule which includes the best of the Similan Islands dive sites, Koh Bon where manta rays are often spotted, Koh Tachai, and the famous Richelieu Rock. Hallelujah liveaboard takes a maximum of 25 guests but, the boat is so large and spacious that even when it is full, guests won't feel overcrowded. The sun-deck upstairs is large enough to have a knock about with a football and there are quiet areas all over the boat
Hallelujah Similans liveaboard offers guests two deluxe cabins with double beds, ten standard twin cabins with bunk beds and one VIP single occupancy cabin. We advise early booking for this trip to avoid disappointment. The attractive prices coupled with all-round high standards make this a sought after Similans liveaboard. All cabins are air-conditioned, have sea views and have private bathrooms and Hallelujah offers both inside and outside dining areas. In summary, Hallelujah offers great value for money and is a truly beautiful boat.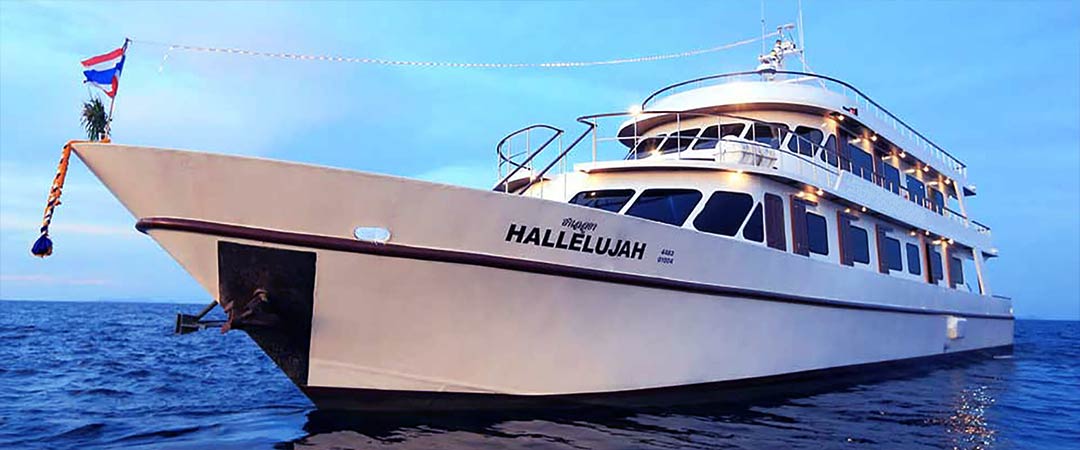 Hotel transfers from Phuket are included. Once guests arrive on the Hallelujah, she'll cruise overnight to the Similan Islands where guests will wake up to a light breakfast before entering the Andaman Sea to begin their amazing scuba diving adventure in and around the Similan Islands.
Hallelujah Thailand Liveaboard
Pick-ups from Phuket run from 3:00 pm to 6:30 pm on departure day. The boat departs from a pier near Khao Lak just north of Phuket. Guests will sleep on the boat for four nights and have a total of fourteen dives in the Similan Islands, Koh Bon, Koh Tachai and Richelieu Rock.
Scuba Diving Insurance: Guests taking this liveaboard trip must have their own scuba diving insurance. We recommend Divers Alert Network (D.A.N.), a non-profit scuba diving organization which offers various levels of scuba diving insurance for both recreational divers as well as professional divers.
Prices Include: Return transfers from Phuket or Khao Lak to the boat, all meals, snacks, drinking water, dive guides, tanks & weights.
Prices Exclude: Similan National Marine Park fees are 2,300 Thai Baht per person and payable in cash on the boat. Equipment rental if required is 2,000 Thai Baht for a full set. Other possible extra costs include soft drinks, alcoholic drinks, and enriched air nitrox at 200 Thai Baht per tank, or 2,500 Thai Baht for 14 nitrox tanks. Torches for night dives are also charged onboard at 150 Thai Bath day. As aforementioned, guests must also have their own scuba diving insurance.
We can reserve spaces or cabins for guests with no obligation and take confirmed bookings. We offer the best prices and we don't charge extra for any credit card payments we take. 15% Off All Hallelujah Trips in October!
Hallelujah Similans Liveaboard Prices
Four Days & Four Nights ∗ 14 Dives
VIP Single Cabin – 56,000 THB per person
Standard Twin Cabins – 36,000 THB per person
Deluxe Double Bed Cabins – 46,000 THB per person
Similan Marine Park fees of 2,300 THB are payable in cash on the boat
[gdoc key="https://docs.google.com/spreadsheets/d/1DIVvpIJ1F1NLLlsw-GewIUAzxd7gUURcDTZUyAgrZok/edit#gid=1390046713″ datatables_searching="false"]
Similan Liveaboard Choices
Ultimately, the scuba diving in the Similan Islands is fantastic regardless of which Similans liveaboard guests dive from. However, the different liveaboard options below cater to different tastes and budgets expected from guests. Please don't hesitate to ask us if you have any questions!

Deep Andaman Queen
Premium Class
Similans, Richelieu, Burma
4 to 7 nights

Hallelujah
Premium Class
Similans, Richelieu
4 nights

Pawara
Premium Class
Similans, Richelieu
4 nights
Sawasdee Fasai
Premium Class
Similans, Richelieu
4 nights

The Junk
Premium Class
Similans, Richelieu
4 to 6 nights

DiveRACE
Premium Class
Similans, Richelieu
4 nights

Manta Queen 1
Budget class
Similans, Richelieu
4 nights
Manta Queen 2
Budget class
Richelieu, Bon, Tachai
3 nights

Manta Queen 3
Budget class +
Similans, Richelieu
4 nights

Manta Queen 5
Budget class
Similans, Richelieu
4 nights

Manta Queen 6
Budget class
Similans, Richelieu
4 nights

Manta Queen 7
Budget class
Similans, Surins, Richelieu
5 nights

Manta Queen 8
Budget class +
Similans, Surins, Richelieu
Five nights

Giamani
Premium class +
Similans, Richelieu, Hin Daeng
2 to 6 nights

Dolphin Queen
Budget class
Similans, Burma
4 to 6 nights
Similan Explorer
Budget class
Similans, Surins, Richelieu
3 to 5 nights

Day Trips
Choice of destinations
Three dives
Small group sizes

Phuket Dive Courses
Learn to dive in Phuket
Friendly & patient staff
Competitive prices

Super Divers Phuket
5/13 Hat Patong Road,
Patong Beach, Kathu,
Phuket,
83150
Thailand
• What'sApp Business: +44 7462-855-750 (General info & bookings)
• Miss Gob: +6680-096-9684 (Transfers & What'sApp in Thai & English)
•
Josh: +6687-624-0674 (

Thai number - info in English)