padi 5 star
PHUKET SCUBA DIVING CENTER
Phi Phi Island Phuket Diving Day Trips
Phi Phi scuba diving day trips from Phuket are offered daily throughout the year by Super Divers PADI 5 Star Dive Center
Phuket Diving Day Trips to Phi Phi Islands
Scuba diving Phi Phi Islands from Phuket is easy with Super Divers PADI 5 Star Dive Center as we offer Phi Phi diving day trips 365 days a year. Although, even in the middle of the Andaman Sea monsoon season which is typically mild, we often have perfect weather and ideal dive conditions at Phi Phi. However, usually the best Phi Phi scuba diving conditions are at their best and more predictable from October until May. Opposite to this, we often have the best dive conditions at Racha Noi & Yai during the monsoon from June to September when the underwater visibility there often exceeds 40 meters.
Our guest safety is our priority. We pay close attention to conditions and monitor weather forecasts which also predict wind speed and wave height. If we feel there's a possibility the weather could pose any danger to small boats like boat traffic, we'd cancel a trip and refund or reschedule guest bookings, rather than take a risk and proceed with a day trip. On average, we probably cancel around ten day trips per year because of bad weather.
Phuket Scuba Diving Day Trips to Koh Phi Phi Islands
Koh Phi Phi National Marine Park are situated around 40km south east of Phuket. Phi Phi diving day trips from Phuket depart early morning for two dives around the Phi Phi Islands with a third dive close to the King Cruiser wreck at either Shark Point, Anemone Reef or Koh Doc Mai. Phi Phi has an abundance and diversity of marine life to rival some of the best scuba diving destinations in the world. Scuba divers diving at Phi Phi have a chance to encounter black tip reef sharks, leopard (zebra) sharks, turtles, ghost pipefish, ribbon eels, frogfish, lionfish, stingrays, sea snakes and much more.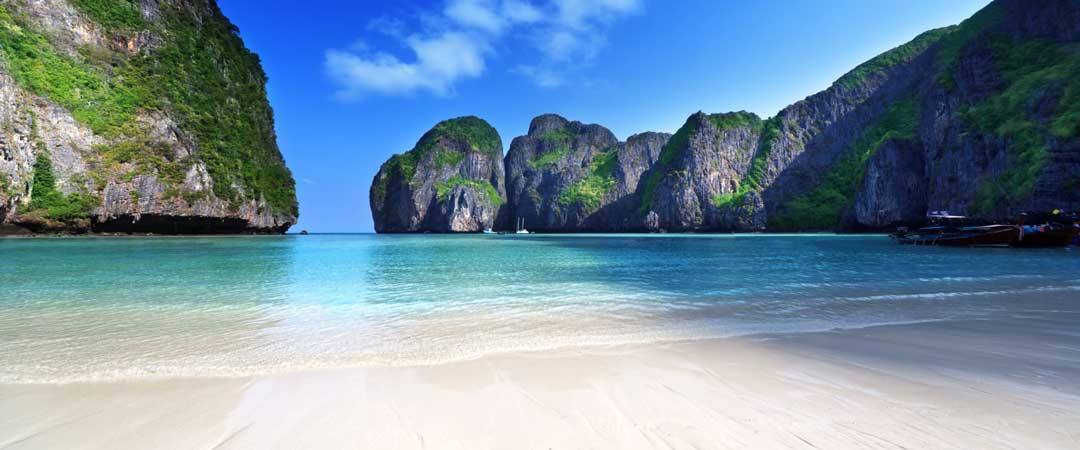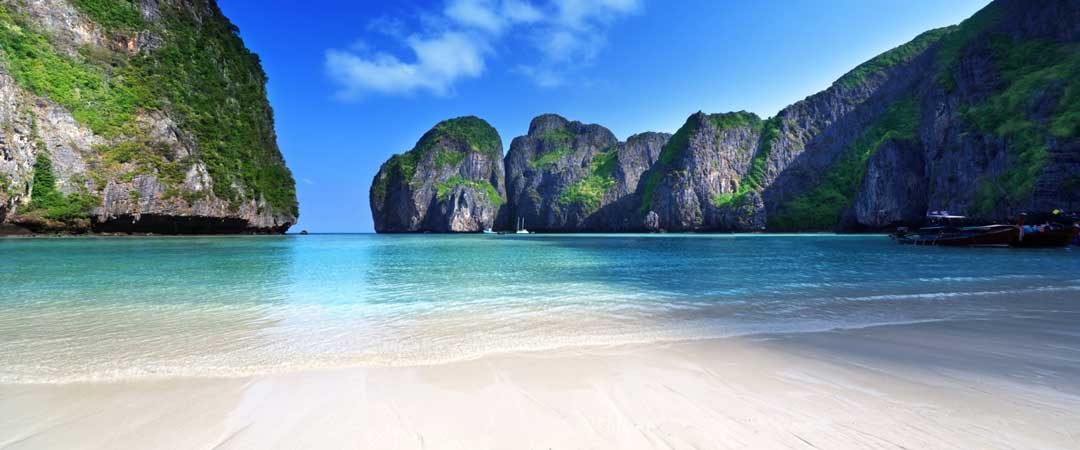 Dive conditions around Phi Phi are suitable for all levels of certified divers. Currents are usually mild and underwater visibility although unpredictable, is usually between 10 to 20 meters, but can regularly reach up to 30 meters. Formed from limestone millions of years ago, the Phi Phi Island dive sites are comprised of gently sloping coral reefs, boulder formations and even some wall dives which drop down to the ocean floor at a depth of 32 meters. Lunch is served on the boat between the two Phi Phi dives before the boat heads back towards Phuket stopping around half way for the third and last dive of the day
Usually, Shark Point will be chosen for the third and final dive of day but, the tour leader may decide to dive at either Anemone Reef or Koh Doc Mai depending on currents and conditions at the time. The dive boat should be back at the pier in Phuket by around 6:30 pm if the day has run to schedule and guests should expect to be back at their Phuket hotels between 7:00 pm and 7:30 pm.
Phi Phi National Park Fees
The Phi Phi National Park fees are currently 600 Thai Bath for divers and 200 Thai Baht for non-divers. Guests must pay their own park fees in cash (Thai Baht only) directly to the marine park police, who will usually board the dive boat at some point during the day to collect park fees. Guests should have the correct change ready to pay their own park fees please ready for when the police arrive to collect them. On occasions the police don't visit the boat to collect park fees, guests can keep their park fees.
Additionally, only certified divers or students finishing a certification course are permitted by Thai law to scuba dive at Phi Phi.
Focused on our guests, not on our competition!
We don't just meet expectations, we exceed them!
We're not perfect, but we fix things if they go wrong!
Our customer service comes before profits!
Unrivalled 100% safety record since opening in 2010!
Koh Phi Phi Scuba Diving Day Trips
Phi Phi scuba diving day trips from Phuket are available daily throughout the year. To ensure safety, occasionally, due to weather conditions we may act cautiously and decide to cancel a Phi Phi day trip. If this happens we will of course refund or reschedule guests bookings.
Complimentary hotel transfers from Phuket start at 7:15 am. The dive boat departs from Chalong pier at around 8:15 am and guests are served breakfast, assemble dive gear, receive dive briefings and can relax before the first dive at Phi Phi. There are two dives at Phi Phi with lunch served between the dives. The third dive will be conducted at either Shark Point, Anemone Reef or Koh Doc Mai, dependent on conditions on the day. The dive boat usually arrives back at the pier at around 6:30 pm. Guests transfer back to their Phuket hotels for around 7:00 pm to 7: 30 pm.
Phi Phi is suitable for all levels of certified diver (PADI open water or equivalent upwards). Dives will usually have a max depth of 18 meters as dictated by the depth of the dive sites visited.
Super Divers keeps group sizes small. This usually means two, or sometimes three guests with one of our experienced and friendly professional divemasters or instructors. This ensures higher quality dives and an increased level of safety.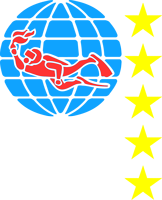 Price 3,900 THB per person!
(Equipment 300 THB extra if required)
Price Includes
Scuba diving insurance.
Three dives. Usually but dependent on conditions, two dives will be at Koh Phi Phi Islands with the third dive at either Shark Point, Anemone Reef or Koh Doc Mai.
Complimentary return transfers from Kamala, Patong, Karon, Kata, & parts of Rawai, Nai Harn & Chalong on days two and three (from other areas additional charges may apply).
Breakfast, lunch, snacks and refreshments on the dive boat.
Tanks & weights.
No surcharge for credit or debit card payments.
A friendly team with patient, adaptable & experienced divemasters and instructors.
Excellent customer service & a perfect 100% safety record.
Price Excludes
Phi Phi National Marine Park fees. The fees are currently 600 Thai Baht for all divers diving at Phi Phi. The fees need to be paid in cash directly to the marine park police who usually (90% of the time) visit the dive boat when it arrives at Phi Phi. Park fee for non-divers is 200 Thai Baht.
Scuba diving equipment. We can provide a full set of good quality equipment for 300 THB per day.
Boat transfers from areas outside the complimentary pick-up areas. (We can though arrange private transfers at cost price on request).
Underwater photos and video are from dive staff on the boat as an optional extra, usually for 1,000 THB. Please note, this is not a Super Divers service, but a service provided from the dive staff on the boat as a way to make a little extra beer money.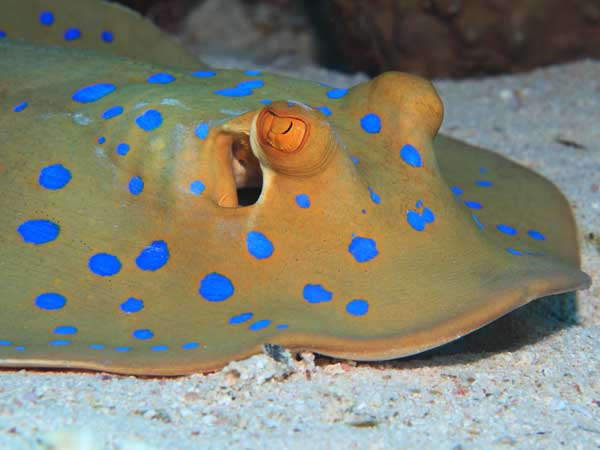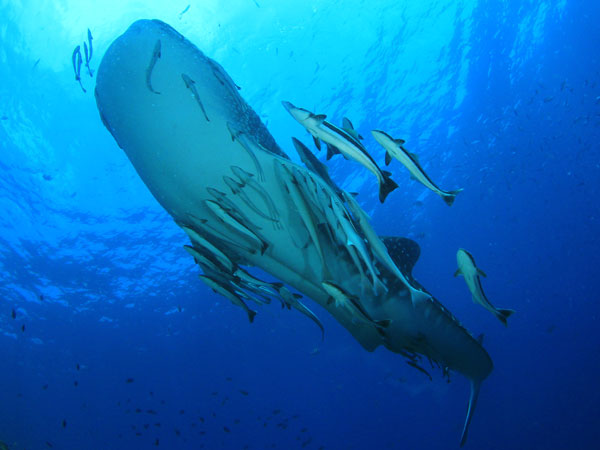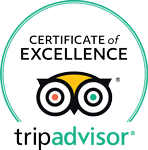 Amazing experience with Super Divers
I always do a lot of research when picking activities when it comes to holidays, and choosing a dive school was no different. After days of reading reviews, I chose Supers Divers to do my PADI open water course and I have absolutely no regrets.... more.
Phuket Dive Trips & Similan Liveaboards for Certified Divers
We also have Phuket diving day trips to Racha Noi and Racha Yai, and the King Cruiser wreck to choose from plus, a selection of top quality Similan liveaboards.

Racha Noi & Racha Yai
Three dives / 3,900 THB
Good visibility all year
Suits all levels
Equipment 300 THB if required

King Cruiser Wreck
Three dives / 3,900 THB
Includes Shark Point
Exciting dive!
Equipment 300 THB if required

Similan Liveaboards
3 nights from 14,600 THB
Best diving in Thailand
Maybe mantas & whale sharks
October to May

Super Divers Phuket
5/13 Hat Patong Road,
Patong Beach, Kathu,
Phuket,
83150
Thailand
• What'sApp Business: +44 7462-855-750 (General info & bookings)
• Miss Gob: +6680-096-9684 (Transfers & What'sApp in Thai & English)
•
Josh: +6687-624-0674 (

Thai number - info in English)