padi 5 star
PHUKET SCUBA DIVING CENTER
Similans Liveaboard DiveRACE
Designed and built specifically as a Similans liveaboard, DiveRACE offers five star comforts and service that compliment the world class Similan Islands scuba diving
Similans, Koh Bon, Tachai, Richelieu Rock
Prices from 40,000 THB per person
Special offers sometimes available!
DiveRACE Similans Liveaboard
Launched in December 2014, DiveRACE Similans liveaboard offers divers an ideal four-night dive itinerary which includes fourteen dives in the Similan Islands, Koh Bon, where if conditions are right it's common to see giant manta rays, Koh Tachai where both whale sharks are seen by divers regularly, and Richelieu Rock which is home to a huge diversity of marine life.
Extremely spacious and designed by scuba divers with comfort as well as international safety standards in mind, DiveRACE has dual systems to all but eliminate breakdowns, and she's fast too, which reduces journey times. As already mentioned the service on board is good. For example, hot towels are offered to divers after every dive, while in between dives guests can relax in the huge air-conditioned lounge, or maybe head to the private massage room to sooth away any aches and pains. Underwater photographers have the use of several multimedia stations to view or edit their underwater shots or video.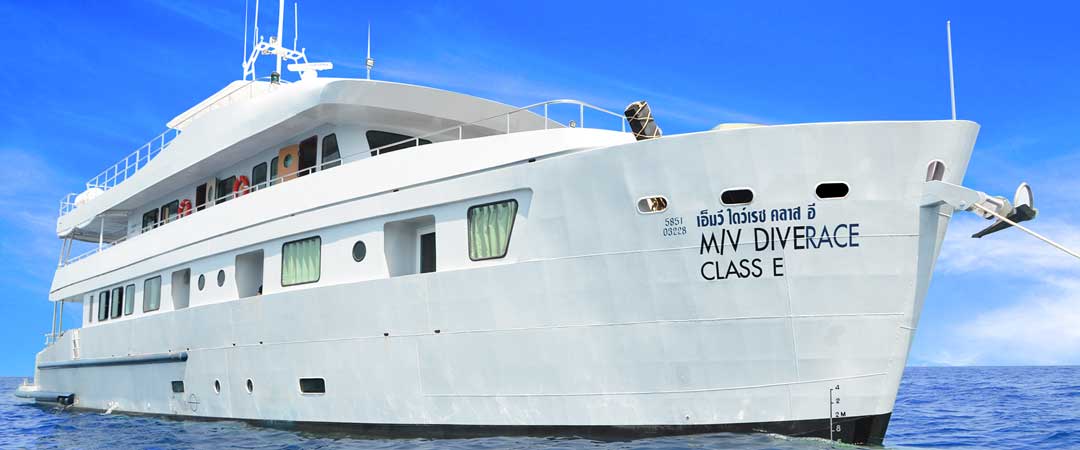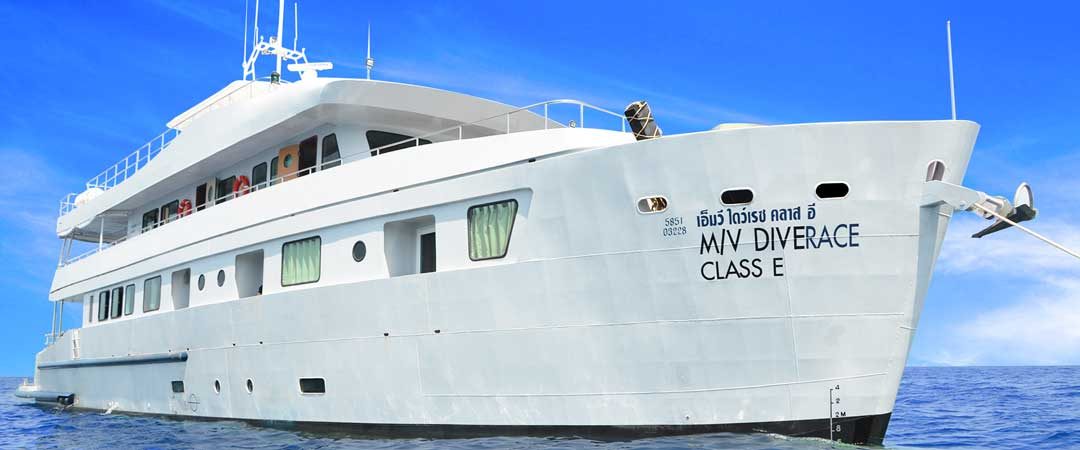 DiveRACE has six luxury cabins and four deluxe cabins. The luxury cabins each have their own balcony and can be configured to take either double or twin beds, while the deluxe cabins have twin beds. All cabins of course have private bathrooms. 
DiveRACE Similans Liveaboard
Pick-ups from Phuket and Khao Lak run from 3:00 pm to 8:00 pm on departure day. The boat departs from a pier near Khao Lak just north of Phuket. Guests sleep on DiveRACE for four nights and take a total of fourteen great dives in the Similan Islands, Koh Bon, Koh Tachai and Richelieu Rock.
Scuba Diving Insurance: Guests taking this liveaboard trip must have their own scuba diving insurance. We recommend Divers Alert Network (D.A.N.), a non-profit scuba diving organization which offers various levels of scuba diving insurance for both recreational divers as well as professional divers.
Prices Include: Return transfers from Phuket or Khao Lak to the boat, all meals, snacks, drinking water, daily cabin services, hot towels after every dive, dive guides, tanks & weights.
Prices Exclude: Similan National Marine Park fees are 1,800 Thai Baht per person and payable in cash on the boat. Equipment rental if required is 2,000 Thai Baht for a full set. Other possible extra costs include soft drinks, alcohol, Nespresso coffee, and enriched air nitrox at 300 Thai Baht per tank with a deal to pay for six tanks and receive the seventh tank free of charge. Massages cost 600 Thai Baht per hour, while torches for night dives if required are also charged at 250 Thai Bath day. As aforementioned, guests must also have their own scuba diving insurance.
We can reserve spaces or cabins for guests with no obligation and take confirmed bookings. We offer the best prices and we don't charge extra for any credit card payments we take. Special Prices Sometimes Available Contact Us For More Info!
DiveRACE Similans Liveaboard Prices
Four Days & Four Nights ∗ 14 Dives
Luxury Cabin – 45,000 THB per person
Deluxe Cabin – 40,000 THB per person
Similan Marine Park fees of 1,800 THB are payable in cash on the boat
[gdoc key="https://docs.google.com/spreadsheets/d/11Id-sQuj5e2lDCpcQp8D2tUkQB3KV77SAwYDscQww-4/edit#gid=1390046713″ datatables_searching="false"]
Similan Liveaboard Choices
Ultimately, the scuba diving in the Similan Islands is fantastic regardless of which Similans liveaboard guests dive from. However, the different liveaboard options below cater to different tastes and budgets expected from guests. Please don't hesitate to ask us if you have any questions!

Deep Andaman Queen
Premium Class
Similans, Richelieu, Burma
4 to 7 nights

Hallelujah
Premium Class
Similans, Richelieu
4 nights

Pawara
Premium Class
Similans, Richelieu
4 nights
Sawasdee Fasai
Premium Class
Similans, Richelieu
4 nights

The Junk
Premium Class
Similans, Richelieu
4 to 6 nights

DiveRACE
Premium Class
Similans, Richelieu
4 nights

Manta Queen 1
Budget class
Similans, Richelieu
4 nights
Manta Queen 2
Budget class
Richelieu, Bon, Tachai
3 nights

Manta Queen 3
Budget class +
Similans, Richelieu
4 nights

Manta Queen 5
Budget class
Similans, Richelieu
4 nights

Manta Queen 6
Budget class
Similans, Richelieu
4 nights

Manta Queen 7
Budget class
Similans, Surins, Richelieu
5 nights

Manta Queen 8
Budget class +
Similans, Surins, Richelieu
Five nights

Giamani
Premium class +
Similans, Richelieu, Hin Daeng
2 to 6 nights

Dolphin Queen
Budget class
Similans, Burma
4 to 6 nights
Similan Explorer
Budget class
Similans, Surins, Richelieu
3 to 5 nights

Day Trips
Choice of destinations
Three dives
Small group sizes

Phuket Dive Courses
Learn to dive in Phuket
Friendly & patient staff
Competitive prices

Super Divers Phuket
5/13 Hat Patong Road,
Patong Beach, Kathu,
Phuket,
83150
Thailand
• What'sApp Business: +44 7462-855-750 (General info & bookings)
• Miss Gob: +6680-096-9684 (Transfers & What'sApp in Thai & English)
•
Josh: +6687-624-0674 (

Thai number - info in English)