padi 5 star
PHUKET SCUBA DIVING CENTER
Similans Liveaboard Manta Queen 7
Spend five days and nights experiencing the best Similan Islands scuba diving sites and Koh Bon, Koh Tachai and Richelieu Rock!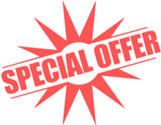 3,000 THB Discount Off All Trips in December, April & May!
Similans, Koh Bon, Tachai, Richelieu Rock
Prices from 21,500 THB 18,500 THB per person
Manta Queen special offer available!
Manta Queen 7 Similans Liveaboard
Budget Similans liveaboard Manta Queen 7 recently refurbished in 2018 offers divers a five-night itinerary that includes diving at some of the best Similan Islands diving spots, Koh Bon where manta ray encounters are common, Koh Tachai, a dive site where both whale sharks and mantas are often sighted, plus several dives at the awesome Richelieu Rock. As expected from all Manta Queen liveaboards, the prices reflect exceptional value for money.
A maximum of twenty-two divers can be accommodated on Manta Queen 7 in a variety of different types of cabin which are two double bed and six twin bed cabins with their own private bathrooms plus, one additional twin share and quad share cabin which use shared bathrooms. All cabins are air-conditioned, have windows as well as 220v power sockets. Mostly, other than sleeping during the night, guests don't spend much time in their cabins as they also have other areas of the boat where they can relax, including an indoor lounge area which has a TV and DVD library, and a sundeck furnished with comfy mattresses.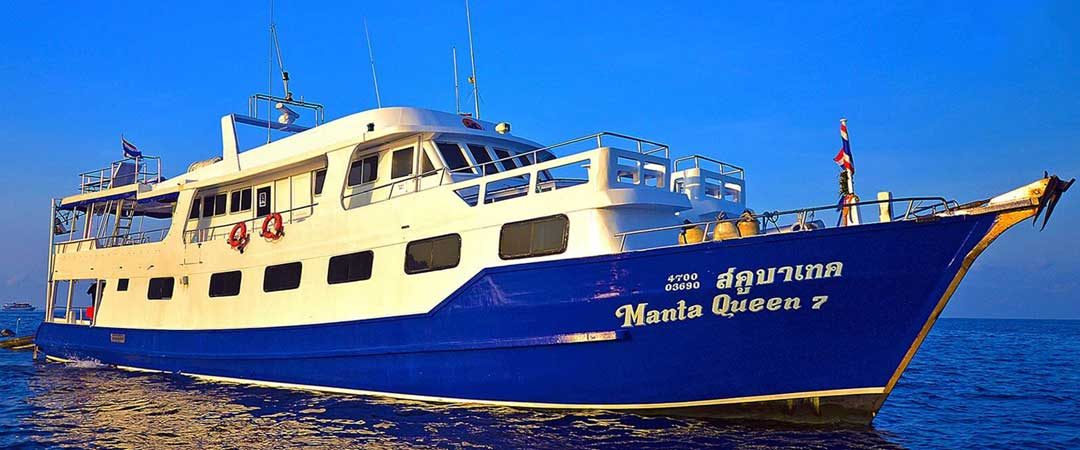 Transfers for guests staying in Phuket can be arranged by us at a small cost of 300 Thai Baht per person each way. Return transfers for any guests heading to Phuket after the trip can also be arranged at the same price. Please note though, transfers are only available on departure and arrival days. Also, the departure day transfers operate to a schedule from from 11:00 am to 3:30 pm, from different areas around Phuket. We advise booking early for Manta Queen liveaboards as they can often be fully booked in advance due to their low prices.
Manta Queen 7 Thailand Liveaboard
Transfers from Phuket: In regards to transfer pick-up times in Phuket on trip departure days, may we ask guests to please be patient as there is usually road construction in different areas of Phuket which can sometimes cause delays. For airport pick-ups, guests should make their way to the designated meeting area outside the arrivals terminal and keep an eye out for the Manta Queen driver holding an A4 "Khao Lak Scuba Adventures" sign. Transfers from Phuket run from 11:00 am to 3:30 pm on departure day. The boat departs from a pier near Khao Lak just north of Phuket. Guests will sleep on the boat for three nights and have a total of eleven dives at Koh Bon, Koh Tachai and Richelieu Rock. The boat returns to the pier on arrival day at around 5:00 pm and guests are transferred back to their Phuket or Khao Lak hotels. Phuket transfers are charged at 300 THB per person each way, while Khao Lak transfers are free of charge.
Proof of Diving Certification: Upon arrival at Manta Queen office on departure day, guests must show proof of their scuba diving certification with either their certification card, an online dive check, or another satisfactory way. If no dive certification can be proven, a guest may have to join as a snorkeler.
Equipment Rental: We can supply a full set of rental dive equipment for 400 THB per day. If someone only needs a set or regs, or a BCD, we charge 200 THB per item. If someone is renting a BCD or reg from us, we throw in the mask, fins and wetsuit for free if required. 
Dive Computers: All divers must have a dive computer for safety. If guests don't have their own dive computer, they are available to rent on departure from Manta Queen for 250 THB per day.
Scuba Diving Insurance: Personal scuba diving accident and evacuation insurance coverage is mandatory. If Scuba diving accident coverage is included in guests own travel insurance, they must show specific details in the policy confirming it's covered. A policy card or number is not enough. If guests can't show specific coverage in scuba diving insurance, guests must purchase diving insurance coverage from Manta Queen before departure, at 250 THB per day plus 7% VAT. We recommend Divers Alert Network (D.A.N.), a non-profit scuba diving organization which offers various levels of scuba diving insurance for both recreational divers as well as professional divers. We also suggest guests have trip cancelation coverage included with their travel insurance. Although rare during the liveaboard season, weather and sea conditions can at times be unpredictable and trips may need be postponed, adjusted or cancelled. Ourselves, nor Manta Queen cannot be held responsible with last minute trip changes or cancelations due to weather conditions.
Prices Include: Standard 12 litre tanks, weights, dives, dive guides at a max ration of 4 guests to 1 dive guide, torch for night dives, towel, all meals on board, tea, coffee, water, snacks.
Prices Exclude: Similan Marine Park fees, dive equipment, dive computers, transfers from Phuket are available at 300 THB per person each way if required. Dive insurance, soft drinks & alcohol.
Similan Marine Park fees: Guests need to pay their own Similan Marine Park fees in cash on departure. Currently, the fees for three night trips are 1,600 THB per person, four night trips are 1,800 THB per person and five night trips are 2,000 THB per person.
Optional Extras: Can be organized at time of booking, or when checking in for a trip.
15 Liter Tanks cost 150 THB per dive (limited number of 15L tanks available).
Nitrox Course on board including eight tanks is 7,500 THB (additional nitrox tanks cost 150 THB each).
Nitrox Packs: Three-day pack with 11 tanks is 1,650 THB, four-day pack with 15 tanks is 2,250 THB, five-day pack with 19 tanks is 2,850 THB.
Wrist Computer is 250 THB per day.
Deep Adventure Dive is 1,500 THB (Allows open water certified divers to dive to 30m instead of 18m).
PADI advanced course available on all trips for 8,500 THB and includes dive computer rental for entire trip (Plus 7% VAT).
 All Manta Queen prices apart from the Similan Marine Park fees are subject to +7% VAT! 3,000 THB Discount Off All Trips in October, November, December, April & May!
Manta Queen 7 Similans Liveaboard Prices
Five Days & Five Nights ∗ 19 Dives
Double Cabin Private Bathroom – 27,500 THB per person
Twin Cabin Private Bathroom – 27,500 THB per person
Twin Cabin Shared Bathroom – 24,500 THB per person
Quad Cabin Shared Bathroom – 22,500 THB per person
Similan Marine Park fees of 2,000 THB are payable in cash on the boat
All Manta Queen prices excluding marine park fees are subject to 7% VAT
3,000 THB Discount on All Manta Queen Trips in October, November, December, April & May!
[gdoc key="https://docs.google.com/spreadsheets/d/1j_OTtzNeGK9WIZ6k31OHMrBteiuAbjA28gHVTvt9dmc/edit#gid=1390046713″ datatables_searching="false"]
Similan Liveaboard Choices
Ultimately, the scuba diving in the Similan Islands is fantastic regardless of which Similans liveaboard guests dive from. However, the different liveaboard options below cater to different tastes and budgets expected from guests. Please don't hesitate to ask us if you have any questions!

Deep Andaman Queen
Premium Class
Similans, Richelieu, Burma
4 to 7 nights

Hallelujah
Premium Class
Similans, Richelieu
4 nights

Pawara
Premium Class
Similans, Richelieu
4 nights
Sawasdee Fasai
Premium Class
Similans, Richelieu
4 nights

The Junk
Premium Class
Similans, Richelieu
4 to 6 nights

DiveRACE
Premium Class
Similans, Richelieu
4 nights

Manta Queen 1
Budget class
Similans, Richelieu
4 nights
Manta Queen 2
Budget class
Richelieu, Bon, Tachai
3 nights

Manta Queen 3
Budget class +
Similans, Richelieu
4 nights

Manta Queen 5
Budget class
Similans, Richelieu
4 nights

Manta Queen 6
Budget class
Similans, Richelieu
4 nights

Manta Queen 7
Budget class
Similans, Surins, Richelieu
5 nights

Manta Queen 8
Budget class +
Similans, Surins, Richelieu
Five nights

Giamani
Premium class +
Similans, Richelieu, Hin Daeng
2 to 6 nights

Dolphin Queen
Budget class
Similans, Burma
4 to 6 nights
Similan Explorer
Budget class
Similans, Surins, Richelieu
3 to 5 nights

Day Trips
Choice of destinations
Three dives
Small group sizes

Phuket Dive Courses
Learn to dive in Phuket
Friendly & patient staff
Competitive prices

Super Divers Phuket
5/13 Hat Patong Road,
Patong Beach, Kathu,
Phuket,
83150
Thailand
• What'sApp Business: +44 7462-855-750 (General info & bookings)
• Miss Gob: +6680-096-9684 (Transfers & What'sApp in Thai & English)
•
Josh: +6687-624-0674 (

Thai number - info in English)